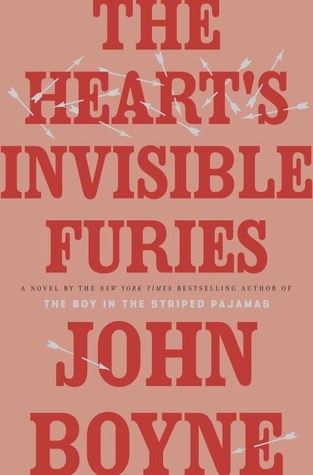 This book is a hard one to review because there are so many depths of dimension for this book.
The good:
It started off really intriguing, I was hooked by the exile of Catherine Goggin to Dublin and the very specific types of persecution that was going on in Ireland at the time. The first section was a "stay up in bed under the covers read" I want to be Catherine Goggin when I grow up!
I found Cyril Avery's unique relationship with his adoptive parents hilarious and heartbreaking especially since I was raised by adoptive parents as well. His obvious adoration for his best friend Julian and the eventual realizations that he has about them throughout his formative years was very deep and realistic. Then we get to the last section where he has his footing under him, and has grown into himself, both of which were beautiful and mature and lovely.
The not so good:
The whole thing went off the rails for just a a little bit in the middle when describing all of the different sexual encounters that Cyril explored throughout his adolescence and early adulthood as he came to terms with his homosexuality. I understood what the author was trying to do by telling the stories, but there were a few times that I found myself drifting off course because of the sometimes graphic scenes.
Also there is a little red bow tied to the end of the book. It was a little too neat for my tastes especially with as messy as the plots and interactions.
Overall, this book was lovely and complicated and I highly recommend it, especially to my friends with a love of historical fiction.
Thank you to John Boyne, Hogarth Press and Netgalley for the opportunity to read this novel in exchange for an honest review.